Isabel's Fashion Gallery
On the WaterFront
30 Lake Shore Plaza Suite C
Downtown Kirkland Washington
isabel@isabels.com
425-889-4762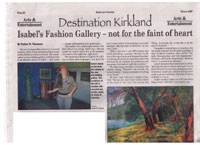 Click thumbnail to read the article
Mirror Collection fashion show
(download the video of the show - requires itunes or quicktime)
My fall collection is a modern way of showing clothes that mirrors the way people dress today.

It is a streetwise collection for men and women that exudes the energy and technology of this area with the symbiosis of the beautiful landscape.
accesible price with new and modern original shapes
the colors electric blue, brown and blacks define the spirit of the collection.

Draping of the fabrics and no sewing the mood is right now with at far away past that can be the future.
Before
Egyptians,
Sumerians
and
Atlanteans

was...................................

How I think they dress
The Mirror Collection
fall 2006 fashion show
(download the video of the show - requires itunes or quicktime)